Jazz In The Arts Internship Program (Jazz Kats) led by Jairus Daigle, is an after-school jazz program for high school students. The program focuses on performance, recording, music theory, career professionalism, and life skills and allows the student to experience studies in a college setting. The students are involved in community service by sharing their musical talents. The program is free of charge to high school students that are intermediate and advanced with their instrument. Students are required to attend a two (2) hour class once (1) a week, 3:30 p.m. until 5:30 p.m. at McNeese State University. For more information contact Patricia Daigle at (337) 794-5744 or chesterdaigle@aol.com.






JITA Internship Program
"Jazz Kats"​

---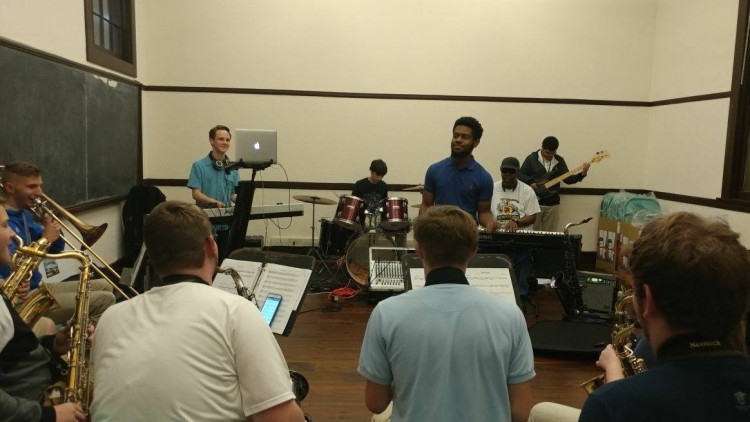 Lake Charles Internship Program
By:Ian Trahan
​
My name is Ian Trahan, I am a junior at DeQuincy High and I played the saxophone and EWI for the Tipitina's Internship Band and JITA. I know the program has been going through some tough financial issues recently and I want to just say everything I can about this program to help it prosper.
​
First off, this program literally changed my life and when I say literally, I mean it. I started JITA in seventh grade. I was terrible. I had no idea how to read music, improvise, and my ear was horrible. JITA changed all of that by putting me with professionals who understood my troubles and who loved to teach. At first I had no idea who Jairus or Mr. Daigle or Mrs. Pat was, all I knew was that my mom wanted me to go to this week long music camp in Lake Charles. I showed up on my first day super nervous and scared of what might happen to me in this foreign land of Lake Charles. I met Mrs. Pat who gave me my ID and I went into the auditorium. About half an hour later, we had a warm up jam session. I did not know what a 'jam session' was. They taught us Chameleon. This was my first taste of what actual musicians sounded like. This was the first time I had ever experienced jazz music. This was when I fell in love with music. I now want to be a musician and without JITA I would've never become what I am today. The next year I started to make friends. I met Kendall Harrison and oh my goodness he was the best saxophone player I've ever heard. I looked up to him and tried to imitate everything he did. I wanted to play exactly like him. At about that time I think the Daigles were starting to watch me closer because they didn't know who I was the previous year.

​Then came Tipitina's. The Daigles invited me to be one of the first interns at the internship and I definitely could not refuse. I drove from DeQuincy to Lake Charles every Thursday to play my saxophone with people who still intimidated me. Why? Because I wanted to be better. The Daigles wanted me to be better and so they motivated me to try harder and push myself. I idolize Jairus and I respect Mr. Chester Daigle for everything his family has done for me. They shaped my life in amazing ways. I used to practice for an hour everyday but they wanted me to practice for two. They made me learn theory, scales, transposition, and how to be a band leader. Jairus was even in the process of teaching me how to play a drum kit. Then Mrs. Pat(my almost second mom at the time) had an idea. She said that four of us could go to the Berklee five-week program in Boston but we had to raise money and try to get scholarships. Mrs. Pat, through ways that only God knows, raised the money needed for all four of us to go. That program was eight-thousand dollars per person. If I could change anything about the situation Tipitina's is in I'd give my eight-thousand dollars back to Mrs. Pat because she deserves it. Her, Mr. Daigle, and Jairus deserve all the money they can get. Not just because they are outstanding musicians, but because they can change people's life. They can shape the youth in the best way possible. They made me a musician. They caused me to learn what jazz, improvisation, and music is. The Daigles need money so the Tipitina's program can keep shaping people's lives. One day I want to be like this amazing family. I want to be a wonderful musician but also I want to better humanity. This is what this program is doing. Tipitina's is bettering SWLA by giving the youth a goal, a dream. The Daigles are bettering SWLA by making this dream possible.
​
Thank you Mrs. Pat for caring for me and making my musical life possible but also being awesome and nurturing. Jairus, you are the person I want to be. I want to be a musical genius and respected. I definitely have an enormous amount of respect for you and your family. And Mr. Daigle, I could talk all day about how much you've helped me and taught me, but I'll just say this: when I am having a tough time with my music, or I'm going through a hardship in life, I just think of how much worse it could be if you and your family were never there for me. So thank you. All of you, Mr. and Mrs. Daigle, and Jairus, for being mentors to me and treating me like I have a purpose, and teaching me to be a musician.